An oft-overlooked album from Ray Davies and co gets the Deluxe Edition treatment, a full 42 years after its original release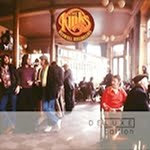 irst released in 1971, Muswell Hillbillies didn't make much of an impression at the time – it failed to chart in the UK and reached only No 48 in in the US. Yet with the benefit of hindsight, it's an album that's important because it marks a transitional phase in The Kinks' long and illustrious history, in more ways than one.

Firstly, it was their first album after moving from Pye to RCA. Secondly, it marked a further move into the theatrical, concept album territory that the band had already explored on their previous two long-players, Arthur (Or The Decline And Fall Of The British Empire) and Lola Versus Powerman And The Moneygoround, Part One, and that would form their stock-in-trade for most of the 1970s. Thirdly – and most importantly – it was conclusive proof of their ever-broadening musical palette. To the vaudeville/music hall influences of their late 60s output were now added Dixieland jazz, Delta blues and country flavours – the album's title track in particular isn't a million miles from the country rock being peddled at the time by The Band, Crosby Stills & Nash et al.

Lyrically, while there are a handful of Davies' trademark vignettes (see, for instance, Skin And Bone and Holiday), it's themes of alienation and disillusionment with modern living that dominate Muswell Hillbillies, from opener 20th Century Man's folksy middle-eight: "I was born in a welfare state/ruled by democracy/controlled by civil servants/and people dressed in grey," to the closing title track with its wistful yet resigned refrain of, "Well I'm a Muswell Hillbilly boy/but my heart lies in Old West Virginia/though my hills, they're not green/I've seen them in my dreams/take me back to those Black Hills/that I ain't never seen." These themes are explored further on tracks like Acute Schizophrenia Paranoia Blues, Complicated Life and Here Come The People In Gray – though there's also time for a good ol' Cockney knees-up in the form of Have A Cup Of Tea.
"For hardcore fans, it's the second disc that will be of most interest"
Post-Lola albums aren't that easy to find on CD, which will be enough in itself to entice many Kinks lovers to fill this particular gap in their collection. For more hardcore fans, however, it's the second disc that will be of most interest. Here you'll find alternate versions of many of the album's tracks – mostly studio out-takes, but also including a few versions recorded for BBC sessions. It has to be said that in most cases, it's easy to see why they chose the final cut they did, but Have A Cup Of Tea rendered in full-blown bluegrass style is certainly interesting, while the 'Alternate instrumental' version of 20th Century Man is an organ-fuelled wigout that could find favour with the nation's freakbeat DJs. Most importantly, you also get four tracks that didn't make it onto the final album at all: Kentucky Moon, Lavender Lane, Nobody's Fool and Mountain Woman, plus a 24-page booklet with admirably exhaustive sleevenotes by Daniel Rachel, of Isle Of Noises fame.
For newcomers to The Kinks' oeuvre, this is resoundingly not the place to start – for such purposes, may we humbly recommend Something Else By The Kinks or The Kinks Are The Village Green Preservation Society. But for existing fans, this is a bit of a must.
Verdict: One for the fans, perhaps – but said fans will be delighted 
Russell Deeks
---
---
---