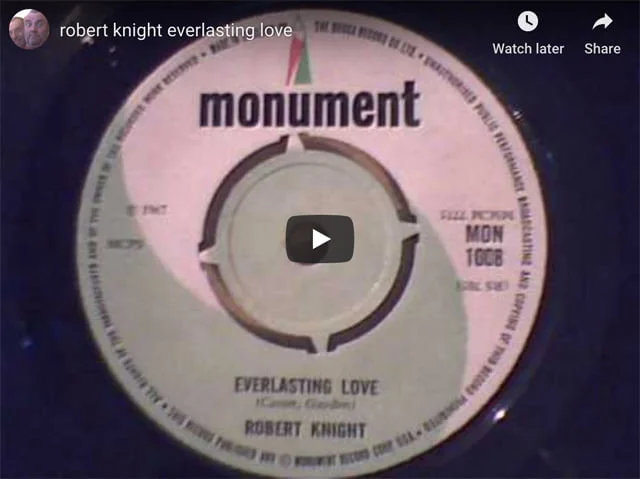 Our series continues with the story of a song that's been a hit somewhere in every decade since the 60s
Everyone, or world+dog as the hipsters say, knows the song Everlasting Love – it's been hard to avoid these past 45 years or so! Mac Gayden and Buzz Cason wrote it for Robert Knight, who had a US and UK hit with it in 1967, while other artists who've achieved chart success with the song include Love Affair (1968, UK), Carl Carlton (1974, US), Rex Smith & Rachel Sweet (1981, US/UK), Sandra (1987, Europe), U2 (1989, Australia), Worlds Apart (1993, UK), Gloria Estefan (1994, US/UK) and Jamie Cullum (2004, UK). And that's not to mention over 40 other recorded versions – everyone from The Drifters to David Essex to Scooter has had a pop at Everlasting Love over the years. Not bad for a song that was partly written by a five-year-old…
---
"The story of Everlasting Love began when I was playing with a band at the Phi Delta fraternity house at Vanderbilt University in Nashville. During a break in our set, we came outside and heard this fantastic voice singing down the street. So we ran down to the Kappa Sigma house to see who it was, and the singer, who was Robert Knight of course, was just going on his break. I told him, 'I need to take you into the studio,' and of course he just looked at me like, 'What the hell? Get out of my face!'. But it turned out there was a connection between my family and his, so eventually I did take him into a studio. And I introduced him to Buzz Cason, and Buzz and I wrote Everlasting Love especially for Robert's voice. It's something very special when you custom-write a song for an artist, it's a phenomenal thing. I think that's one reason the song's proved so popular over the years.
"But the story actually starts a long time before that, when I was just five years old. I used to play on my grandmother's piano and I came up with this simple little melody, almost like a lullaby, and that's the melody that the horns and the Farfisa organ play on Everlasting Love. I'd always known I'd use that melody somewhere along the line! To this day I make a point of recording all my musical ideas. I have hundreds and hundreds of tapes all over the house, I keep everything – it's like having a giant catalogue of melodies to draw on.
"I think the other reason the song has been so successful, is that it was definititely written to be catchy and singable – when we came to write the chorus, I had in mind for it be almost like a chant. It was one of the first songs to have one of those repetitious, R&B-style chants.
"As for the many other versions… well, I haven't heard them all, but obviously I do have my favourites. I liked the Love Affair version: I think the parts they recorded with the London Symphony Orchestra really added something special to the song. I liked U2's unplugged acoustic version, too, whereas I have to say I wasn't so much in love with Gloria Estefan's… but obviously they all have something special about them for someone or they wouldn't all have been hit singles!
"And it's fair to say that writing Everlasting Love has enabled me to stay in the game, so I'm certainly not complaining when the royalty cheques come in! Lately I've been working with my daughter Oceana and with the 70s R&B group The Valentines, and it's Everlasting Love that's made that possible."
---
---
---